Th
e U.S. Department of Labor (the Department) awarded approximately $21,000,000 in grant funds in 2016

to eleven local workforce boards to fund

Career Pathways for Youth (CPY) Summer Jobs & Beyond grants. These grants focused on

linking existing summer employment programs with re-engagement centers (where they exist), employers, and other community partners to align resources, and assist youth in preparing for successful entry into the workforce.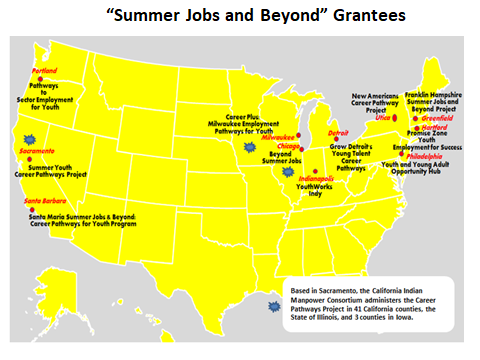 The goal was to strengthen the alignment of partnerships under the Workforce Innovation and Opportunity Act, encourage collaboration, and expand the capacity of local workforce boards to serve youth entering the workforce in their local communities. The program served youth and young adults between the ages of 16 and 24, with limited or no work experience, through a comprehensive model.
Youth received the following services: subsidized and unsubsidized work experience opportunities, individual service strategies or comparable learning plans, assessments, work readiness training, financial literacy training, career exploration, case management, mentoring, and supportive services.
Through these demonstration grants, the Department has learned how the workforce system, local education agencies, and re-engagement centers can work more effectively to reach youth and assist them in obtaining summer into year-round employment.
Summer Jobs and Beyond: Career Pathways for Youth Highlights provides an overview of the entire program with outcome measures.
Below are completed one-pagers from each grant, highlighting their successes and strategies.
---